How is it that a reasonably intelligent, educated person, could reach their late forties and not have any real clue about what a podiatrist does?!
I must confess: that when the good people at Trevor Lane Podiatry approached me last year, about the only thing I knew about podiatry was that it had something to do with the feet.
Fortunately I have a real thirst for knowledge, and love researching, investigating and learning new things – so I have been relishing the opportunity to do all this, now I provide SEO copywriter services for this podiatrist clinic on Brisbane's bayside.
I've learned about common sports injuries seen by podiatrists and how they can help, as well as how to best manage foot fractures and sprained ankles. I have even booked one of my own family members in for an appointment, for treatment of a black bruised big toe nail!
But it's not about me. During the last few months, I have implemented a carefully planned SEO strategy for the clinic, and we are now beginning to see some exciting results.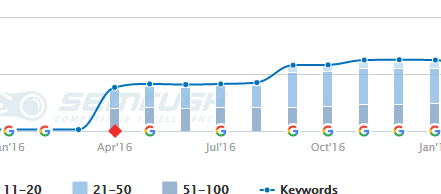 The graph above shows the number of keywords which the site is now ranking for in the search engines; as you can see it is steadily increasing.


Meanwhile, this graph shows how many more visitors – potential customers – have visited the clinic's site, since Google Analytics was installed in November!
UPDATE 19.08.18: The screenshot below picks up from where the graph above left off, at February 2017, and shows how much site traffic has increased since then up to 19 August 2018. The proof is in the pudding …

If you want to see the power of Search Engine Optimisation at work for your business too, why not arrange a chat with a Brisbane SEO copywriter today!