How to Spy on your Competitors' Keywords …
---
How to Spy on your Competitors' Keywords …
Spying on your competitors' keywords – it sounds wrong somehow, doesn't it?!
Way back when we were at school, we learned that spying is a bad thing – almost akin to cheating.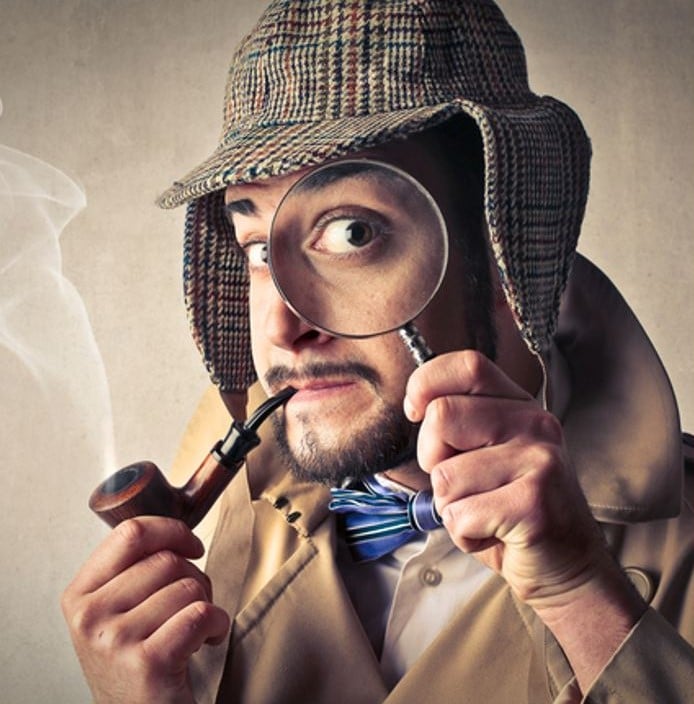 Even when our founder Janet worked as a checkout chick at one of the big name supermarkets as a teenager, she was often sent to the supermarket next door to check their specials – so her store could undercut them!
Spying on your competitor seems to have all sorts of negative connotations – but if you've ever prepared a business plan, you'll know it's an essential part of your research process. You need to know what your competitors are doing, how they are doing it, and how you can go one better, if you want to give your business the best chance of success.
Why Spy on your Competitors' Keywords?
The same is true when it comes to search engine optimisation (SEO) for your website. Spying on your competitors' keywords is just good business sense, and you can use that information to your advantage.
By researching the keywords your competitor is using, it can give you a real "heads up" when it comes to choosing your own keywords. You can find which keywords they have purposely targetted, which ones they rank highest for in Google searches, and which ones are actually driving traffic to their site.
This is all extremely valuable information when you are considering what keywords to target on your website.
3 Free Tools to Find Competitors' Keywords
Here are SEO we rely on a range of tools to help with finding this information, but here are three of our favourites that are either free, or have a free trial version. We recommend adding them as an extension to your Google Chrome browser.
SEOQuake.com – While you are on your competitor's website, click the SEOQuake extension and open the tab titled "PAGE INFO" as per the screenshot below. There you will see the meta keywords your competitor has chosen to target (although this doesn't show you if they are having any success with those keywords!). Here, you can see we've used SEOQuake to look at their own website home page: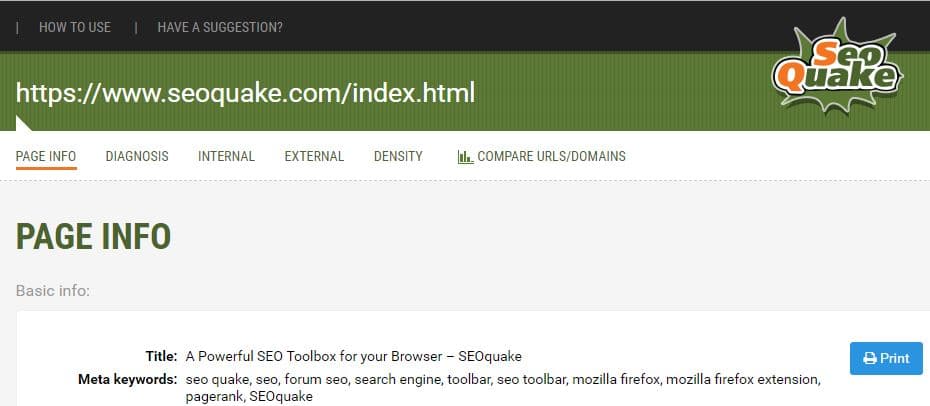 Alexa.com – Below you will see an example of how Alexa can help – it shows the top 5 keywords which are sending traffic to the blog, Middle Aged Mama.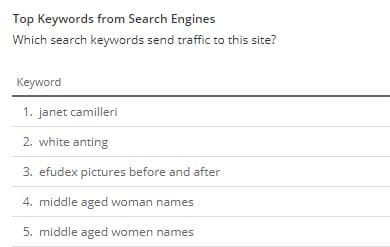 SEMRush.com – you can only perform one or two searches before you are prompted to register for a free account, which then entitles you to 10 searches per day (at time of writing). What you need is the "organic research" area on the left of the screen, then click on "positions" (see below).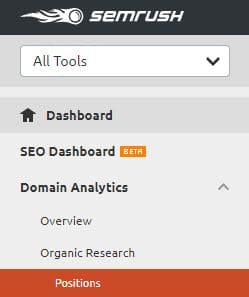 And voila, here are the top 5 keywords sending traffic to the Middle Aged Mama blog, according to SEMRush – and their position in Google search results. Yes, it's different to the information which is shown on Alexa, but that's not a bad thing – it gives you more keywords to work with.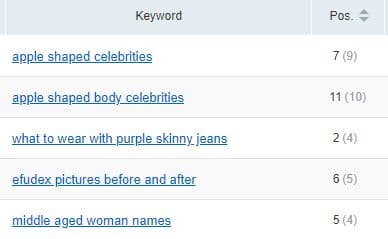 Here's a little bonus tip – by clicking on the arrows on the "Pos" (position) column, you can refresh the information to find the keywords on the site which have the highest positions in Google search. So if you search for "stores for middle aged women", the Middle Aged Mama site will come in at number 4, according to SEMrush. Again, more keywords for you to consider!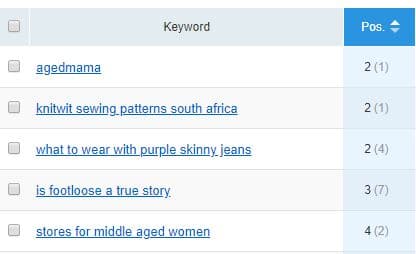 Take Keyword Research to the Next Level
Free tools however have their limitations, and there are times when you really want to dig more deeply to find out exactly what keywords are bringing traffic to your competitors, as well as other ones that may work well for your site. There are so many different paid SEO tools out there, but one of the best and most affordable is KeySearch.
Of course, if this all sounds too much – or you're not sure what to do with your competitors' keywords once you've found them – you're in the right place.
As you've probably already noticed, at Front Page SEO we are passionate about helping website owners do well in search results, so they can gain not only web traffic, but new business as a result! If you'd like to arrange a free online chat to find out how to take your website from invisible to visible, please feel free to get in touch.