Google Business Profile: 2022 Stats
---
Google Business Profile: 2022 Stats
New Statistics on how many local businesses have claimed their Google Business Profile (formerly known as Google My Business) Listing …
---
It was while preparing to teach our own DIY SEO HQ group about managing their Google Business Profile, that we discovered some fundamental problems with the existing statistics.
While multiple websites quoted that "56% of local businesses hadn't claimed their Google My Business profile", few referenced the original site.
Turns out, this data was from 2017. That's FIVE YEARS AGO. The world has changed just a bit since then, not least because of the Covid pandemic – the stats would surely have changed dramatically!
Plus, the site credited with conducting the original study no longer exists (https://www.lsainsider.com/study-56-of-local-retailers-havent-claimed-google-my-business-listing); nor was the data specific to our own country – Australia.
So here at Front Page SEO, we set ourselves a mission:
"To find out how many businesses in 2022 had claimed their free Google Business Profile listing (GBP) – and to what level they were using this profile to market their business."
Data and Method
The data was collected via a short online survey that consisted of the following questions:
In which state or territory do you reside?
How would you describe the size of your business?
Do you have a Google Business Profile?
If you answered yes to Q3, how often do you update or post on your GBP?
If you have any comments regarding your experience with GBP, please share that information here.
Analysis
In the first instance, 1030 responses to the survey were received.
However it quickly became apparent that a large number of these were generated by bots or foreign participants, and the data would have to be excluded from the analysis.
In determining which responses to exclude, the data was reviewed on a line by line basis. Data was then excluded due to:
Multiple same entries
Incoherent answers
Non-existent email addresses
Contradictory responses – "No, I don't have a GBP but I post weekly"
Identical comments
At the end of this elimination process, there were 90 legitimate responses to the survey that have now been used to provide the following analysis.
Results
1. Business location: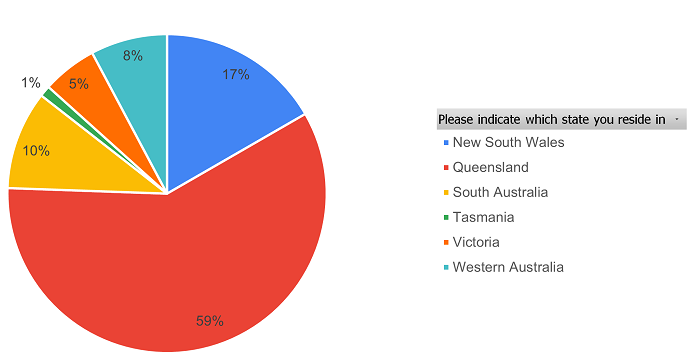 Business location statistics:
NSW 17%
QLD 59%
SA 10%
WA 8%
VIC 5%
TAS 1%
2. Participants provided the following responses regarding the size of their business: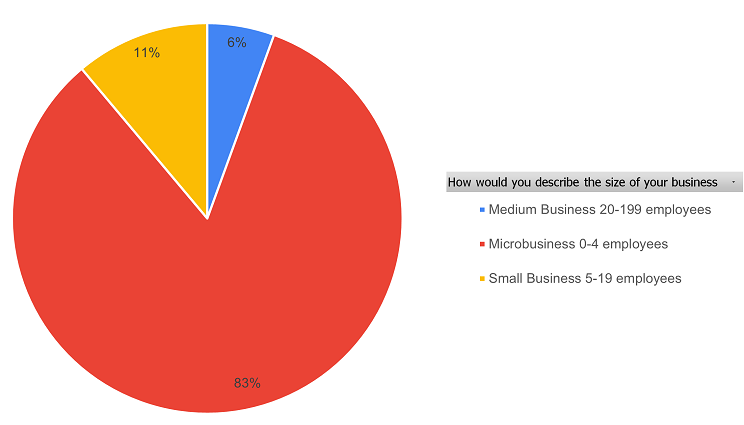 Business Size Statistics:
Microbusiness 0-4 employees 83%
Small Business 5-19 employees 11%
Medium Business 20-199 employees 6%
3. In response to whether a GBP has been claimed, the following data was received: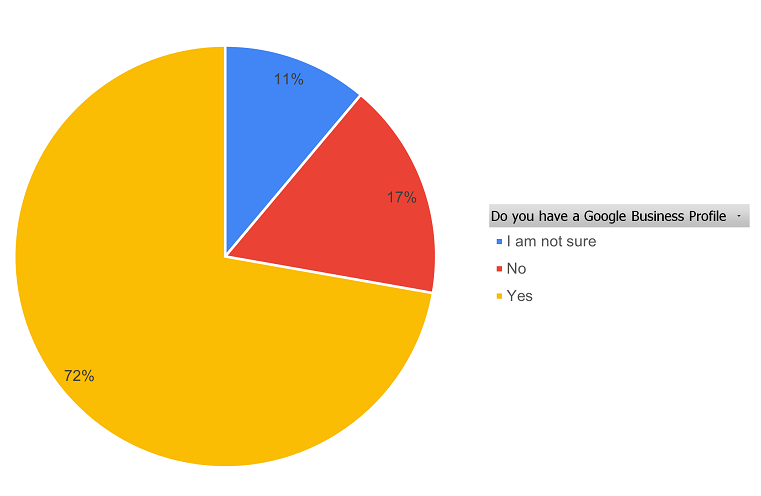 Claimed Google Business Profile listings:
Yes 72%
No 17%
Not Sure 11%
4. In response to how often the GBP was updated, the following data was received: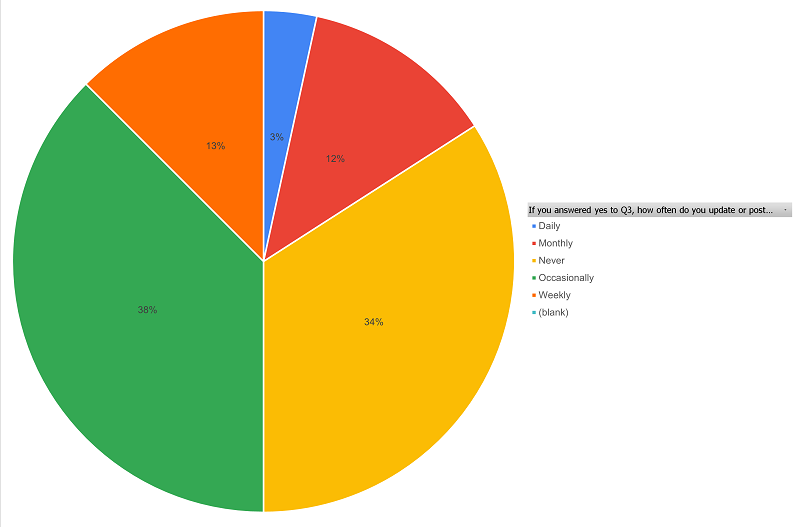 Occasionally 38%
Never 34%
Weekly 13%
Monthly 12%
Daily 3%
(The respondents who either said that they did not have a profile or were unsure if they had a profile are included in the 'Never' data)
Discussion
As the survey was promoted and conducted entirely online, it is possible that the survey results have been slightly biased in that participants are more likely to have claimed their Google Business Profile listing, than business owners who aren't actually active online.
With Front Page SEO being based in Queensland, it came as no surprise that most survey participants were also based in the "Sunshine State"; however as Google Business Profile is available across all states, it seems reasonable that the data could be extrapolated to refer to an Australia wide basis.
All of the business owners which took part were in the micro, small or medium size categories, which also makes sense – larger companies would be much more likely to have outside support in managing their online marketing, including their Google Business Profile.
Conclusion: Google Business Profile Statistics 2022
In 2016, only 44% of local businesses had claimed their free Google Business listing.
Given that more than five years have passed, plus the massive shift to the online environment that has occurred thanks to Covid, we fully expected this figure to have risen – and this was confirmed:
---
In 2022, 72% of local businesses had claimed their Google Business Profile
---
However, only about 1 in 3 businesses are actively managing their listings; and only 13% are posting at the optimum regularity of at least once a week.
Participants listed a variety of reasons for neglecting their Google Business Profile, with four common themes emerging:
1 – Lack of understanding about the benefits of an optimised Google Business Profile.
"I … assume they assist with ranking. I do wonder what measurable impact posting there has";
"I know that it will probably help … ".
2 – Lack of knowledge about how to manage their listing.
"Not quite sure how to use it to best effect";
"I need to learn how to use it properly";
"The whole thing terrifies me. I think I've aged out of new things";
"Not sure what to do";
"I wasn't aware you could post to Google Business profiles so I will have to investigate …";
"Don't really understand it that well and last time I wanted to check it I even had trouble working out how to find it!".
3 – Problems and issues with managing their Google Business Profile.
"Currently client reviews don't show up";
"I have so much frustration with the constant changes that Google makes to my profile … I will spend ages trying to put in all the right information, and they will refuse it, but not say why …";
"Hard to deal with Google. My account always needs to be verified";
"Validation code took 8 weeks during Covid. Also, near impossible to delete a previous business name";
"I used to update regularly but since they've changed it to maps I don't do it";
"I think because GMB isn't really as accessible as social media platforms I forget to do it … social schedulers don't work with it"..
4 – Lack of time to manage what is perceived as "yet another" online platform.
"I've set it up but haven't had time to post updates … I just check sometimes that it's still there";
"I am slowly fumbling my way through things … but sometimes it feels like just 'another' thing I have to update after all my social media and website work".
The Benefits of a Google Business Profile Listing
Google Business Profile is an easy, free way for businesses to communicate with customers – and for customers to communicate with them.
With Google dominating the search landscape, it is practically a no-brainer for businesses wanting to be found in search engine results, to make the most of this Google product.
Here at Front Page SEO, we provide an array of services to help small businesses become highly visible in search engine results – including the set up, optimisation and ongoing management of Google Business Profile listings, as well as training.
If you would like to find out more about these Google Business Profile statistics, or are keen to make the most of your Google Business Profile listing – please contact us today!
*We particularly want to thank all the participants, as well as those who helped to circulate our survey.