The coronavirus pandemic is official and the world is battening down the hatches, with quarantine and self-isolation becoming the new normal.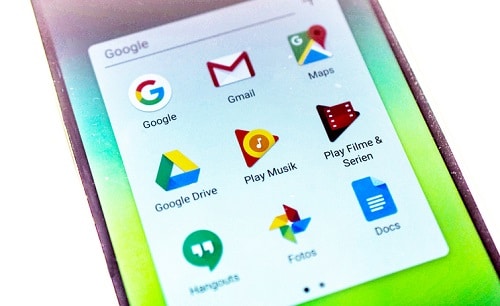 As a result, it's never been more important to make sure that your business, products and services are easily found in Google! With consumers unwilling to – or legally restricted from – visiting shops and businesses, they will be turning to the net instead.
So you want to make it as easy as possible for them to find your business online! One way that you can do this is by making the most of your Google My Business listing. It works hand in hand with your website SEO (search engine optimisation) – the more visible you are, the more leads will be flowing into your pipeline.
Not sure what I'm talking about? This is what the Google My Business listing for Front Page SEO looks like, to people looking for it online: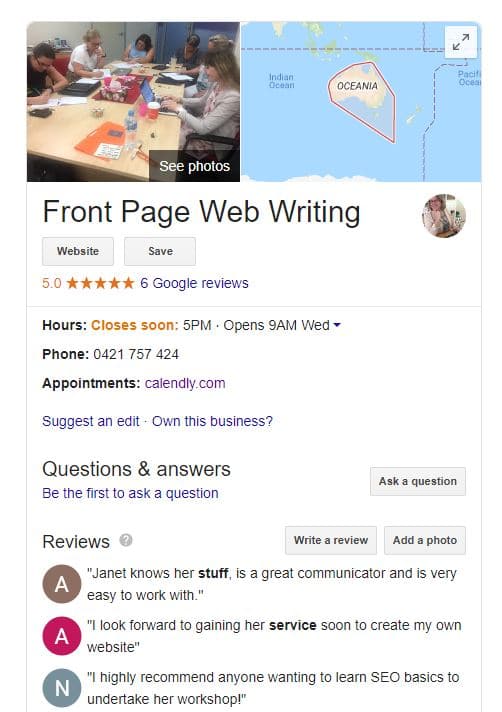 And this is what the back end of the Google My Business listing looks like, to me as a business owner:
4 Ways to Harness the Power of Google My Business …
And reap the rewards: clicks, clients and customers, and CASH!
Do you have a Google My Business (GMB) listing yet? I've found many business owners working from a home office – for example counsellors or architects – are reluctant to sign up as they don't want their (home) address plastered all over the internet. The good news is you DON'T have to publish your address on your GMB profile. While you will still have to give your address to Google – as they send a letter via good old snail mail for verification – you can choose for it to be hidden from the public view. You probably already have a Google/gmail account for your business, or you could always sign up for a new one. Sign in and look for the icon of nine little dots in a square at the top right. Click on that and you will be able to find the "Google My Business" button … and you're away!
Update your Trading Hours on GMB. Should you find that your business has to close its doors for a time, make sure you update your opening hours on your Google My Business listing. (It's a good idea to do this in the lead up to any public holidays, not just in the midst of the coronavirus crisis.)
Create Posts on Google My Business regularly. Did you know that you can add "posts" – much like a Facebook status update – on your Google My Business page? Experts recommend adding a new one every week to make sure your listing gets seen by more people. There are four different categories of post to choose from: Add Offer; Add What's New; Add Event; or Add Product. You can include a photo, a short spiel, and a link to your website with a call-to-action button such as "learn more", "book now", "buy", "order online", or "sign up". Pro SEO Tip: Try to use real photos of/from your business if you can; lately Google seems to be cracking down and won't approve posts that use stockphotos.
Encourage your customers to leave a rating or review. That is, unless you are a registered health practitioner – then it's against the AHPRA guidelines and you could get a hefty fine!
There's a lot more that you can do to optimise your Google My Business listing, but these are the absolute basics in my professional opinion.
Yes, coronavirus is here and there's a lot of uncertainty around the world.
But one thing I do know, is that if you should find yourself stuck at home for a period of time, don't despair. We are all depending on the internet for so much more – from shopping and banking to virtual personal training and online counselling sessions. So make the most of it! There is much you can do to propel your website forward in search engine results, and it will have benefits both now, and well into the future – long after the coronavirus crisis has passed.
Setting up and maintaining your Google My Business profile are just two of the ways that Front Page SEO can help improve the visibility of your business online. Call Janet on 0421 757 424 or email janet@frontpageweb.com to find out more about how we can help your business dominate the search engine results!